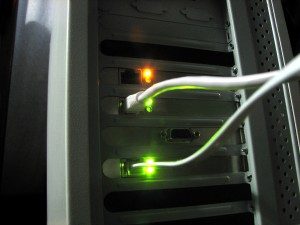 These are some of the challenges our clients have thrown at us recently:
A client working on a dual screen setup found that their primary screen kept going off.  As this was the one with the desktop we changed the primary screen by remote access and asked them to check all the connections.  The screen kept misbehaving so we visited the business and discovered that, although they had checked and tightened all the connections, the adaptor was not properly connected.
A call came in from a client who thought they'd deleted a huge amount of work – a whole folder had disappeared so they asked us to restore it from their back up.  We accessed it remotely and found the folder safely complete – not in the back up, but in another adjacent folder, where they had accidentally dragged and dropped it.
One customer found their laser jet multi-function printer/copier/scanner was consuming vast amounts of colour toner because they were printing out quite a lot of draft documents for internal use.  With remote access we simply changed the default print settings from colour to black and white, so, if they want a colour copy they have to actively choose that.
Several clients have called us to ask why, when they lift receiver to answer call, it doesn't answer and has to be put down and then lifted up again before the call connects.  The problem is that the handset has not depressed the cut off fully after the previous call, so the line has not properly disconnected.  The first step is to ensure that the handset gets placed back in its cradle firmly, but there is a clever 'trick' to improve this situation.  The hook holding the handset can be turned around so this problem is less likely to happen.  Generally we explain how by phone or arrange to do it for the client on our next visit.
The unseen support!
There are all kinds of things that go on behind the scenes – for instance the recent botnet attack on WordPress sites where the user name is 'admin'.  For all the sites we manage we just changed that so they are not at risk – the client is completely unaware of this, their websites are just better protected.