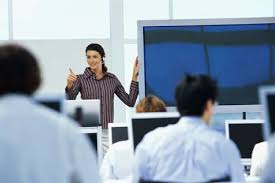 Some of the calls we get asking for support are more about understanding how to get an application to carry out a specific activity than about things that fail to work.
Having recently spent some time with a Microsoft trainer I've learned lots of useful tips that streamline work.  The session was a bit like being in a sweetshop with lots more goodies still to explore – it was hard to know where to start!
As a techie I thought I was pretty knowledgeable about the standard applications, but I learned lots of useful things and realised just how much the right training can affect productivity.
We don't do Microsoft (or any other application) training, but I see clients almost daily who really aren't getting the best from the programmes they're running.  This usually means that they are paying people to take two or three times longer to do relatively straightforward tasks.  For instance:
Manually changing a list of dates when a simple formula would do it in a couple of clicks.
Trying to make a list of nested bullet points work properly.
Scrolling up and down an alphabetical list of files because the most frequently used folders start with S and W.
Simple things – but the last stats I know of report that typically one person could save 17 working days a year with the right training in the software on their computers.  How much does that cost your organisation?
If you want to change that take a look at www.f-keys.co.uk – they're the people who helped me.