Today's homes are full of technology.  We have computers, wireless connections, smart meters for our utilities, smart boxes for the TV, games consoles, broadband direct to the TV and much more.  It's easy to plug the latest gadgets into your system and just as easy to be in blissful ignorance of the security hazards.
You don't need an IT specialist to plug in your Xbox and connect it up to the internet to play games with people all around the world.  Or do you?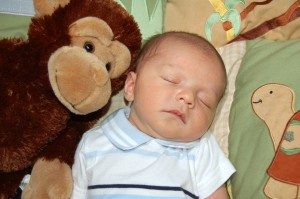 If you're using an IP camera to monitor you little ones you could be a victim of hacking.  It may sound alarmist, but there are incidences of families finding their system had been hacked into and complete strangers could see and talk to their children.
How can you protect yourself from this kind of thing?
Firstly, the more reputable the company the more likely that the equipment is protected, but don't let that lull you into a false sense of security.  Take these steps to ensure you protect yourself and your family.
Register your product.  If that means remembering to tick the box that says 'don't send me any information on promotional deals' that's a small price to pay.  However, DO ensure you get update notices so you protect yourself from people gaining access to your monitor and, perhaps, your computer files.
Make sure your firewall is in place.  A decent firewall will protect the monitor and all your other computing devices.  If you want to have remote access to your computer from outside your home you'll need to talk to an IT specialist on how to limit the IP addresses that can connect to your router.
Change the defaults.  Don't leave any equipment that connects via broadband with the default codes in place.  Change the settings on your router, any camera software and any other devices.  If they don't have log in activated and it's available, activate it and create your own unique access codes.
If you're in any doubt it's worth investing in an hour of an expert in IT support to give you advice and help you to set up a secure system.