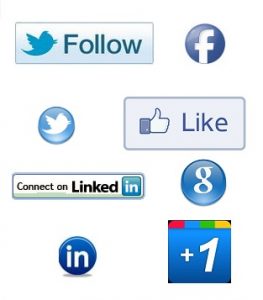 Everyone is on social media these days – and if you want to be found it makes sense to promote your various social media accounts.  That means they need to be on your website so people can link, like, connect and follow.
They should also appear in other places, such as your email signature, your email marketing, your promotional material, on your blog (making it easy for people to like and share your wisdom) and anywhere else you appear online.
The challenge for some people is that, while they have social media accounts set up, there's nothing going on in them.  There's nothing worse than clicking a Facebook 'like' icon and finding that the Facebook Page looks pretty, but has no content, no posts, no community.  Why would I want to like something that offers zero in value?
If someone visits your LinkedIn profile does it look professional, informative and present you as someone who 'knows their stuff'?
If you're going to have a Twitter feed on your website then you'll need to be sure that there's content going into it daily and that it delivers value, if you want people to follow you.
Social media has no value unless it's active.  This means you need to be adding information, advice, opinions, comments, tips and more.  Now so many people are sharing information online you have to offer something worth having to persuade people to add to their incoming information stream.
If you want to be 'on' social media, you need to use it – it will do you more harm than good if you just have accounts that aren't adding any kind of value.