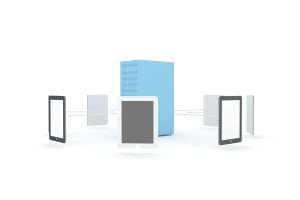 Big organisations talk about their intranet, but does a small organisation need one?
Firstly, let's be clear about what constitutes an intranet – in simple terms it's simply a shared network – sometimes called a VPN – Virtual Private Network.  Typically, this means that several computers are connected together so information can be accessed and shared by all.
In reality it's a bit more complex as once you've got more than a couple of people working in the organisation, information security starts to play a part.  You probably don't want all your staff to have access to the accounts information and as more functions get involved, they won't want or need access to the detail of other departments' activities.
The first step is a server, which can be anywhere – onsite, offsite or in the Cloud.  Then you need to set up access limitations and information storage systems with passwords to allow each member of staff access to what they need without compromising confidentiality or security.
A dashboard is a handy method of letting people find what they want and navigate to the information they need to do their jobs.  A central news and information bank provides a means of keeping up-to-date with what's going on in the organisation, new staff, new contracts won, company events, social activities, new policies or procedures, staff information and so on.
A really small organisation probably doesn't need this depth of information, but once staff gets into double figures it's an easy way to ensure nobody feels excluded and good practice as the organisation grows.
If you're not sure if an intranet would be a positive step for your organisation, give us a call 01702 668730 and let's discuss your needs.