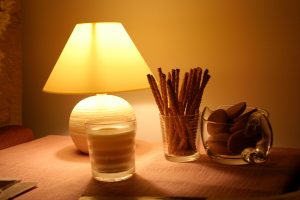 I've found a clever little App that has all kinds of handy uses.  It's called IFTTT – short for 'If this, then that'.  This means that you tell it one criteria and when that happens it will take the action you instruct so:
If it's sunset, then turn on the hall lights.
If it's 10pm, then turn off the TV in the kids room(might be unpopular with then kids!).
If I'm tagged on Facebook, then send me a text message.
If I check in at [postcode] on Foursquare, then post a status update on LinkedIn.
Plus many more that you can dream up.
The App is available via a website or can be programmed from your Smartphone, which enables additional features, and works from anywhere – even when you're not in the building where the devices you've programmed are located.
All the devices you want to instruct need to have a wifi plug (e.g. http://www.belkin.com/uk/Products/home-automation/c/wemo-home-automation/) to operate them – but these are about the same price as a decent timer switch.
If this is just what you were looking for you'll find it at ifttt.com.